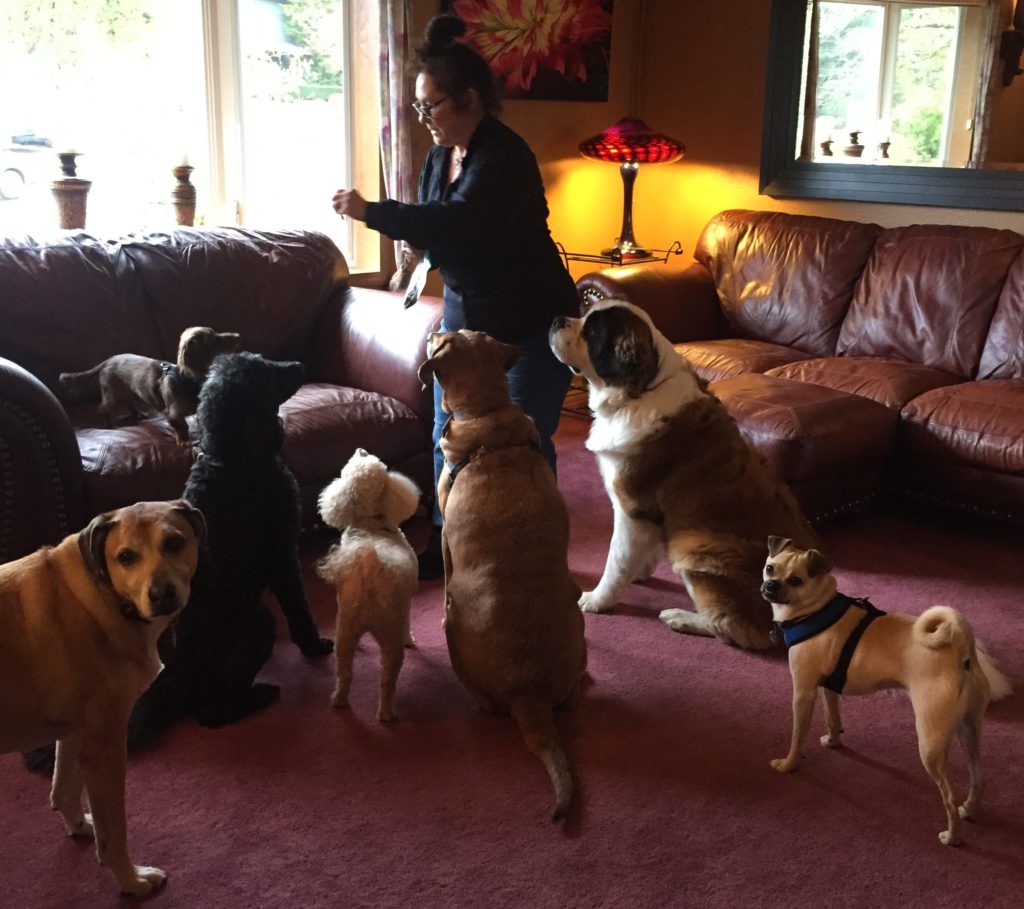 Doggy daycare is open daily from 7:00am to 7:00pm for your convenience.
Jet Set Pet Sitters is proud to offer your 4-legged kiddo a safe, clean, and engaging place to socialize and expend their energy while you're away.
Our doggy daycare is based at JSPS headquarters, in a stress-free home environment with a 1 acre park-like yard for them to safely explore with their new furry friends.
With the smallest dog-to-human ratio of any daycare in the area, you can be assured your dog is always with a loving human companion and your kiddo can focus on playing, napping and just having fun.
Our social directors are always at the ready with treats for rewarding and redirecting behavior that way your kiddo's social manners are refined throughout the day.
| Doggy Daycare | | | | Daily Rates |
| --- | --- | --- | --- | --- |
| Extended Day (10-12 hours) | | | | $40 |
| Full Day (5-10 hours) | | | | $30 |
| Half Day (Up to 5 hours) | | | | $20 |
Our Current Bookings
Find out when your kiddo's friends will be at daycare and schedule a playdate for them. Please contact us early to reserve your kiddo's stay.
If you'd like to book a date within the next 24-hours, please call or text Joyce at 503-701-8670.
February

2019

Mon
Tue
Wed
Thu
Fri
Sat
Sun

6

NIKO & COCO - Sophie

DERSEY - Home Daycare

• •

11

NIKO & COCO - Sophie

OLIVE - Kerry

• •

12

SADIE - Cheryl

OLIVE - Kerry

TANYA - Ralph & Teresa

• • •

13

DERSEY - Home Daycare

OLIVE - Kerry

TANYA - Ralph & Teresa

• • •

14

OLIVE - Kerry

TANYA - Ralph & Teresa

• •

15

OLIVE - Kerry

TANYA - Ralph & Teresa

• •

16

Dakota

OLIVE - Kerry

TANYA - Ralph & Teresa

• • •

17

OLIVE - Kerry

TANYA - Ralph & Teresa

• •

18

HARLEY - Michelle

OLIVE - Kerry

TANYA - Ralph & Teresa

• • •

19

SADIE - Cheryl

NIKO & COCO - Sophie

OLIVE - Kerry

TANYA - Ralph & Teresa

• • • •

20

OLIVE - Kerry

TANYA - Ralph & Teresa

• •

21

OLIVE - Kerry

TANYA - Ralph & Teresa

• •

22

OLIVE - Kerry

TANYA - Ralph & Teresa

• •

23

OLIVE - Kerry

TANYA - Ralph & Teresa

HARLEY - Michelle

• • •

24

OLIVE - Kerry

TANYA - Ralph & Teresa

• •

25

OLIVE - Kerry

TANYA - Ralph & Teresa

• •

26

SADIE - Cheryl

TANYA - Ralph & Teresa

• •