Frequently Asked Questions
Many of our satisfied clients had never used a professional pet sitting before coming to us. Here are some of our most frequently asked questions. Click on a question below to see our answer.
What Makes JSPS Unique?
Why use a professional pet sitter?
Many pet owners are use the services of professional pet sitters for the benefits in-home pet care provides:
In-home professional pet care provides added peace of mind that your home & pet are cared for.
Untrained or unwilling friends/family/neighbors need not be relied on.
Pets are happier and experience less stress at home.
Diet and exercise routines are maintained.
Travel trauma for both owner and pet is eliminated.
Pets' exposure to injury or illness is minimized.
Your pet enjoys the personal attention provided by a pet sitter.
How are you different from other sitters?
We are a mother/daughter team who dedicate their hearts and souls into creating an extraordinary pet care experience that goes above and beyond the industry standard.
Our JSPS Experience truly provides pet owners with peace of mind that their pets and their homes are being well-cared for while they're away. Our business model ensures that every one of our clients receive a personalized experience and first class service. This is what sets us apart.
What is the Jet Set Pet Sitters Experience?
Our main priority is providing you with a first class experience, giving you the peace of mind that your pets and your home receive the highest quality of care. Our goal is to help you travel confidently knowing that your pet is receiving the love and attention that they deserve. We maintain a consistently high level of quality care with our Jet Set Pet Sitters Experience.
The Jet Set Pet Sitters Experience includes:
Customized Services with All Inclusive Pricing
Convenient Online Booking
Trained Staff with Experience & Education
24-Hour Round the Clock Care
First Class Personalized Service
Outstanding Communication + Prompt Response Time
Genuine Love of Animals
Safety First – Pet First Aid & CPR Certified
Learn more about the "Jet Set Pet Sitters Experience" here.
What services do you offer?
Jet Set Pet Sitters provides full service customized pet care including:
We provide services to cover everything you need; travel, long work hours, surgery recovery, errand running, or just too tired to walk the dog. Whatever the reason, you can count on us!
What type of clients do you work with?
We service high end clientele around the world who are searching for elite pet care services.
We also provide pet owners in Happy Valley and the Greater Portland Metro area first class service to provide true peace of mind while they travel and anytime they have to leave their pets for long hours during the day.
Booking a Service
What is a Meet & Greet and is there a charge to schedule one?
The meet & greet is a visit that allows us to meet you and your pet(s) as well as for you to get to know us before booking your first service. During the visit we'll introduce ourselves, spend some quality time with your dog, review important information about your home and your kiddo's routine, go over paperwork (i.e. vet information, emergency contact, special requests, etc.), plus answer any additional questions you have.
A meet & greet is a complementary service required before booking services to make sure we're the best fit for your family and to ensure the best care for your pet. You can schedule a meet & greet by setting up an online account and selecting the "Other Services" option. If you need assistance scheduling a Meet & Greet, please call us, we're here to help!
How do I schedule pet care services?
For the safety of our client's pets all visits MUST be scheduled through either the online portal or with Angela or Joyce at JSPS Headquarters.
We use a cloud scheduling program, which ensures that every pet sitting request and service booking is followed up with a confirmation and reminder so no pet care appointment is missed. If a client books through their walker and they then forget to schedule it in our system, we are unable to follow-up and make sure that your pet has been cared for.
All clients are provided with unique login information to their secured Jet Set Pet Sitters account. From this portal you're able to schedule pet care, check your booked services, and also view your invoices. All scheduling requests are confirmed during our regular business hours.
How far in advance should I book?
Our regular clients know to book as soon as they have dates in mind. It's especially important to book right away if you are requesting overnight care in your home. Angela's schedule books up to a year in advance. We always do our best to accommodate your booking requests, however we cannot guarantee that we'll have availability on short notice.
Do you take last minute booking requests?
We're more than happy to schedule pet care to accommodate your last-minute needs, however we cannot guarantee that we will be available on short notice. If you need same day services please call Joyce at JSPS Headquarters at 503-701-8670 and we'll do our best to accommodate you.
Are you available during the holidays?
Yes we are, and there is a small $10/day surcharge plus the standard rate for the service being provided on these dates. The holiday premium is added for the following federal holidays (sometimes the day before/after):
New Year's Eve + New Year's Day (December 31st and January 1st)
Martin Luther King, Jr. (third Monday in January)
Valentine's Day (February 14th)
Presidents' Day (third Monday in February)
Memorial Day (last Monday in May)
4th of July
Labor Day (first Monday in September)
Veterans Day (November 11th) – and if you're a Veteran you get a discount!
Thanksgiving Day (fourth Thursday in November)
Christmas Eve Day + Christmas Day (December 24th and December 25th)
Do you require my dog to be vaccinated?
For the safety of all pups at JSPS we require your pet to have the following vaccinations prior to their first booked service:
RABIES: We require rabies by 6 months of age and every 1-3 years as an adult.
BORDETELLA: This vaccination helps protect against the two most common strains of kennel cough.
DAPPv: This combination vaccination covers Distemper, Hepatitis, Parainfluenza, and Parvovirus.
What if you have 2 clients requesting live-in overnight services for the same time period?
All of our services are booked on a first come, first served basis and we NEVER double-book. If we have 2 clients who are requesting Angela's premium live-in home & pet care service we'll consider both clients locations and pet sitting needs to see how we can best serve them. Then, the first client to book by providing (the required) 50% deposit will secure the dates in Angela's schedule.
Overnight Sitting
Will you sit my pet in my home?
Yes! What you'll find is that most overnight sitters will arrive around 7pm and stay until 7am. The sitter will then leave and not return until 12 hours later…unless you pay additional fees to have your pets visited again mid day. That's not us!
We don't follow the industry standard model. We believe in providing all inclusive services.
Angela our traveling Jet Set Pet Sitter will move in to your home to provide your pet round-the-clock care and manage your home as if you were there. We offer this signature service to ensure everything runs smoothly while you're away. Angela will make sure the garbage & recycling are tended to, the mail is picked up and organized, the pet bowls are clean, the sheets are laundered, bed made, and the house clean. You'll return to a happy pup and clean home.
Do you board dogs in your home?
Yes! We believe in kennel and cage free boarding. When your kiddo comes to stay at JSPS Headquarters they become one of our family members and join our pack. We follow your rules and if allowed your kiddo can sleep on the bed, lounge on the couches or take advantage of one of our comfy dog beds. We use healthy treats and force free training techniques to positively reinforce your pups good behavior.
If your pup prefers to stay at home, we also offer private overnight services personalized for your kiddos needs.
Do you offer drop-in pet sitting for dogs?
No, that's not a service we offer and here's why…
Dogs are pack animals and do not thrive when left alone for long periods of time. It's the same reason we don't follow the traditional model of overnight sitters.
If your pet is dog friendly, we offer overnight sitting at Jet Set Pet Sitters HQ in our Damascus home, right outside of Portland, Oregon.
Who will have access to my home and my keys?
Only Jet Set Pet Sitter's Owners will come into your home and have access to your keys. No one else. All keys are kept secure at JSPS Headquarters when they are not in use, and are never labeled with any address information.
Daycare & Dog Walking
What are your dog walking hours?
Our regular walking hours are Monday – Friday, 11am – 3pm.
We provide same day bookings, after hours (M – F, 5pm – 8pm) and weekend walks (by appointment only) for an additional $5 per walk.
What are your daycare hours?
Our daycare hours are Monday – Friday, 8am – 6pm.
We offer half-day (up to 5 hours), full day (up to 10 hours) and extended day stay (10-12 hours with meal service) options.
Who will have access to my home and my keys?
Only Jet Set Pet Sitter's Owners and your dog walker will come into your home and have access to your keys. No one else. All keys are kept secure at JSPS Headquarters when they are not in use, and are never labeled with any address information.
Can I just hide my keys outside for you?
Hiding keys outside presents liability and security issues for your pet and your home, it also puts our walker's safety at risk. If you prefer to leave keys in a lock box secured to your home, we can provide one to you at your cost.
Paying for Services
What forms of payment do you accept?
We accept payment by Check, Cash or Card through PayPal or Google Pay. Payment is due prior to the start of the service.
Can I give my sitter/walker a gratuity?
Absolutely, and they will be very grateful if do so. 100% of gratuities go to your sitter/walker so you can give it directly to them or you can include it with your service payment (and a note) if you're paying in cash or writing a check.
What is your cancellation policy?
We know what it's like to have a busy and ever-changing schedule so we have an extremely flexible cancellation policy:
Dog Walks: Text/Call/Email at least 24 hours in advance.
Doggy Daycare: Text/Call/Email at least 24 hours in advance.
Overnight Care:
At JSPS Headquarters: 7 days notice.
In-Home Care within the US: 30 days notice.
In-Home Care outside of the US: 30 days notice.
For the times when life happens, we still appreciate hearing from you however we will charge 50% of the cost of the scheduled service.

Medications & Medical Emergencies
What happens if my pet has a medical emergency and I'm unavailable?
We are certified in pet first aid and CPR so we can assess and address things quickly.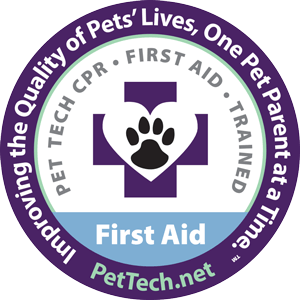 If we believe something is wrong with your pet, we will start by calling the emergency contact numbers we have on file. If you/your emergency contact person believes your pet should be assessed by a vet, we will transport him/her to the veterinarian's office for examination and treatment.
In the event we cannot reach you or your emergency contacts, we will decide if your pet should be seen by a veterinarian. If necessary, we will take your pet for treatment. You will be billed for any extra time we spend for these services.
Do you administer medications?
During overnight services we will attempt to administer oral medicine only. We do not administer subcutaneous medications.
Still have questions? Send an email to service@jetsetpetsitters.com, we're happy to help!